Genesis only emerged a few years ago, but since then it has managed to introduce beautiful sedans that are very well equipped and at a good price. And now, the SUVs are showing up.
Incredibly, we are already seeing updates to some Genesis products, starting with the G90 last year. As for the G80, a new generation is coming to us for 2021 and with it a new style and a host of interesting features and technologies are brought to us. We've taken the time to take a close look at it, and here are the 10 most important things to know about it.
# 1 – Look at her!
You can think what you want from this aggressive grille, but you have to admit that above all else, it is distinctive. It is flanked on either side by equally original headlamps, the daytime units of which advance in styling to match that of the decorations that rest on the fenders, just behind the front wheels.
The rear is also very distinctive with the 'Genesis' script that spans the full width of the trunk, as well as dual lens lights that echo the pattern seen on the front and sidewalls.
Moreover, the posture of the vehicle is perfect and the general appearance exudes quality and luxury. While the 20-inch rims shown here look great, even more distinctive rims are also available.
# 2 – A princely interior
Everything from the materials used to the technology on offer is absolutely worthy of a vehicle for the luxury buyer. The seats are particularly beautiful and adjustable in 16 directions at the front. They have contrasting ribbing and stitching, which is a nice touch. Everything is real, too; leather, open pore wood trim, metal switches and knobs, as well as the gear selector frame which has a glass section below the "P" button. The place is welcoming.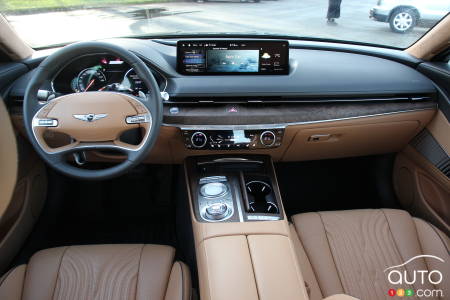 Genesis G80 2021, interior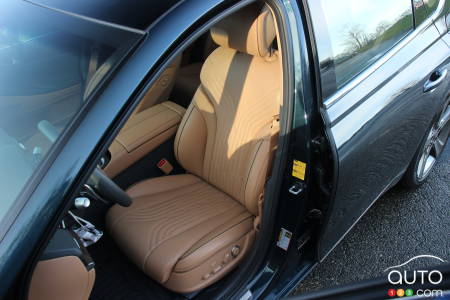 Genesis G80 2021, driver's seat